Verm-X for Sheep and Goats have given Organic Smallholders the alternative they have been looking for.
Available in an easy to feed pelleted formulation Verm-X for Sheep and Goats is designed to be added as a top dressing to regular food on a monthly basis.
Just add 10g per head as a top dressing for 7 consecutive days each and every month.
Our packaging caters not only for the large farm but also the smallholder and hobby farmer.
Sort By:
Showing 1 to 1 of 1 (1 Pages)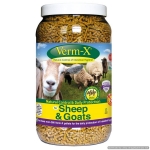 Verm-x Pellets For Sheep & Goats. 1.5kg
Price: €44.00