Categories
Shop by supplier
Information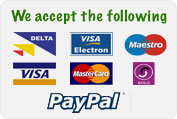 Eyeball Bird Scarer.
Eyeball Bird Scarer.
Inflatable, wind activated, humane bird repellent.
Eyeball with rotating reflective eyes and a streamer tail deters garden pests such as pigeons, seagulls and crows from crops and vulnerable outdoor areas.
Inflate and hang eyeball bird deterrent from trees or poles to protect crops and vulnerable areas of gardens and buildings from bird damage.
Bird repeller can be used to protect fields, orchards, ponds, boats and buildings as well as being used around gardens.
Humane bird repellent is safe for use around wildlife and pets.
Place where it will not get punctured.
Read More...
No other images available
Other products you might like

Bird Scarer. Wind Powered.
Price: €14.00
Sonic Electronic Bird Scarer.
Price: €65.00

Flying Falcon Decoy
Price: €22.00

Larsen Trap - Magpie & Grey Crow Trap.
Price: €105.00
Ultrasonic Bird Scarer.
Price: €65.00

Hunting Barn Owl Decoy.
Price: €20.00