Toilet Tent. Kampa Privvy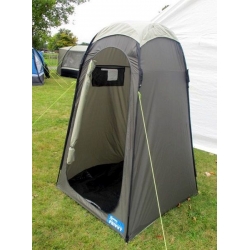 Toilet Tent. Kampa Privvy
A unique, quick to set up, toilet tent.
The top part of the hybrid frame pops into shape and the legs simply attach to this.
Comes complete with a ground frame, to maintain stability, a velcro-in tub groundsheet (removable if not required) and a toilet roll holder.
Size: 120 x 120 cm (at base) Height: 190 cm
Can be used as a shower or utility tent for storing provisions.
Read More...
No other images available
Other products you might like
Elsan Double Blue Toilet Fluid. 1 Litre.
Price: €12.00
Kampa Portaflush 10 Litre Toilet.
Price: €75.00

Kampa Portaflush 20 Litre Toilet.
Price: €90.00

Elsan Pink Toilet Fluid. 2 litre.
Price: €16.50

Kampa Khazi Portable Camping Toilet.
Price: €35.00

Campingaz Portable Toilet 20 Litre.
Price: €95.00