Fabsil Spray 400ml.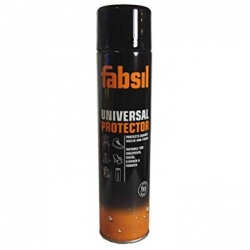 Fabsil Spray 400ml.
Ideal for use on tents, canopies and awning fabrics, the Fabsil Aerosol 400ml is highly effective and the best way to keep water off your outdoors equipment.
Spray application.
Silicone based water repellent treatment.
Dries to an odourless and colourless finish.
Can be used on tents, tarpaulin, canopies and awning.
1ltr of Fabsil will cover upto 18sq metres of nylon, 7.5sq metres of light weight canvas and 5sq metres of medium weight canvas.
A light 2 person tent is approx 6sq metres.
Fabsil Instructions:
1. Ensure that the fabric is clean using Fabsil Universal Cleaner.
2. Shake Fabsil Can well & spray onto fabric.
3. Lightly rub in any droplets that form with a soft, clean cloth.
4. Allow to dry completely before exposure to rain or dew.
Fabsil in Ireland is distriubuted by MacEoin General Merchants Ltd. Dingle. Co. Kerry.
Read More...
No other images available
Other products you might like