Categories
Shop by supplier
Information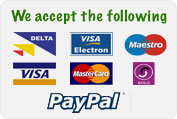 Campingaz Bistro Stove & Gas Offer. No stock until end sept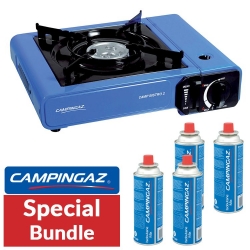 Campingaz Bistro Stove & Gas Offer. No stock until end sept
This special stove & gas offer comes with Four Campingaz CP250 Gas Cartridges.
The portable Campingaz Camp Bistro 2 (II) Stove.
Lightweight, easy to carry and safely transported, the Bistro 2 is ideal of any event, festival, or camping and walking trip.
The stove features an integrated piezo ignition system which makes start-up simple and is extremely reliable.
The enamelled pan support provides stability and easy to clean.
It also features a cartridge safety locking system for correct and safe cartridge insertion every time.
Features:
Enamelled pan support
Cartridge safety locking system
Carry case included
Piezo ignition
Pan Size allowed: min. 12cm / max. 26cm
Power: 2,200W
Gas consumption: 160 g/h
Operates off: Campingaz® CP 250 cartridges
Runtime: up to 1hr 15min on Campingaz® CP 250 cartridge
Boil time: 5min 30sec
Dimensions (LxWxH): 33 x 28 x 9 cm
Weight: 1.43kg
Campingaz CP250 Isobutane Gas Cartridges are a resealable butane canister ideal for most portable gas stoves and gas camping bisto stoves.
The cartridge can be connected and disconnected either when full or empty and designed for horizontal use.
Small, lightweight and very portable; ideal for camping and hiking!
Four Campingaz CP250 Gas Cartridges are included in this bundle.
Read More...
No other images available
Other products you might like

CP250 Campingaz Gas Cartridge. 4 Pack.
Price: €9.50

Knife-Fork-Spoon Set
Price: €3.00

4 Slice Folding Toaster
Price: €5.50

Campingaz Cp250 Gas 12 Pack.
Price: €25.00