Categories
Shop by supplier
Information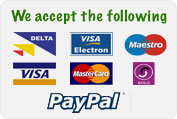 Clip On Pheasant Spex. 100 Pack.
Clip On Pheasant Spex. 100 Pack.
Clip-On Spex can be fitted to full wing birds without running the risk of hanging themselves on aviary nets.
Built in pins allow quick fixing to pheasants and less discomfort to the bird.
Moulded in a superior material these clip on pheasant spex can be reused several times.
Clip on Pheasant Specs, Pheasant Spex, Pheasant Peepers, Poly Peepers, Pheasant Glasses.
Read More...
No other images available
Other products you might like

Stockholm Tar. 450g
Price: €13.50
Pheasant Beak Bits 6 Weeks of Age Plus. Per 100
Price: €5.50

Bumpa Bits for Pheasants. 35mm.
Price: €0.14
Pheasant Spex. 100 Pack
Price: €20.00

Scarper Anti Peck Spray Clear. 250ml.
Price: €10.00