Categories
Shop by supplier
Information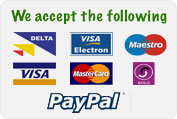 Egg Cartons, End Opening Fibre Egg Boxes. 462 x 6 egg boxes
Egg Cartons, End Opening Fibre Egg Boxes. 462 x 6 egg boxes
A good budget fibre egg box.
Made from re-cycled pulp paper.
The egg boxes are packed into a bundle that contains approx 462 individual egg boxes.
For small, medium & large chicken eggs.
For selling eggs direct to general public or to shops, market stalls etc
back to Egg Boxes And Packaging
Read More...
No other images available
Other products you might like

Bird Scarer. Wind Powered.
Price: €14.00

Plastic Egg Tray to hold 30 Hen Eggs.
Price: €2.85
Ink Pad For Egg Stamps.
Price: €7.80
18 Kg Galvanised Poultry Feeder With Cover
Price: €26.50

Egg Wash Powder. 1 KG Tub
Price: €8.00

Rat & Mouse Bait Station. Lockable.
Price: €10.00