Categories
Shop by supplier
Information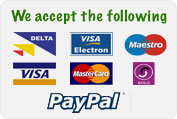 Ink Pad For Egg Stamps.
Ink Pad For Egg Stamps.
This is the ink pad we supply for use with our Egg Stamps.
This Ink Pad is supplied DRY for use with our Food Grade Ink and Egg Stamps.
Suitable for any rubbber stamps that need an ink pad.
Buy your 50ml red food grade ink here.

Read More...
No other images available
Other products you might like

Plastic Egg Tray to hold 30 Hen Eggs.
Price: €2.85
Date Stamp for Egg Marking
Price: €10.00

50 ml Red Food Grade Ink for Egg Stamping.
Price: €11.50
Egg Stamp With producer Number
Price: €36.00