Categories
Shop by supplier
Information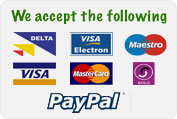 Egg Boxes. High Quality Side Opening. 146 x 6 egg cartons. No stock at present
Egg Boxes. High Quality Side Opening. 146 x 6 egg cartons. No stock at present
A good quality egg box.
Made from re-cycled pulp paper fibre.
The egg boxes are packed into a bundle that contains approx 146 individual 1/2 dozen egg boxes.
For small, medium & large chicken eggs.
Side Opening egg box
back to Egg Boxes And Packaging
Picture for illustation only. Product may vary slightly.
May have dimples in top but will still take large sticker.
Read More...
No other images available
Other products you might like

Automatic Hanging Poultry & Gamebird Drinker. WM2E
Price: €19.00
18 Kg Galvanised Poultry Feeder With Cover
Price: €26.50

Poultry Zest Pellets. 500g
Price: €7.00

Egg Sanding Block / Egg Cleaner.
Price: €2.25

My Cozy Nest. Laying Box.
Price: €22.00