Categories
Shop by supplier
Information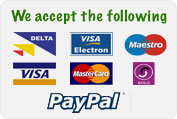 GoSystem Rapid Stove
GoSystem Rapid Stove
Go-System compact and lightweight backpacking stove with a wind baffled sprayhead for use in any conditions.
Steel / Brass Camping Stove with Manual ignition
Wind baffled spray head to with stand strong winds
Serrated pan supports for non-slip use
For use with pans no more then 18cm in diameter
Fueled by a directly attached Go System EN417 gas cartridge
Compatible with any Go System threaded cartridge or Coleman gas cartridges.
3000 watts
213g of gas consumed per hour
Continuous burn time of 1 hour 10 mins per 220g cartridge
Will boil 1 litre of water in 3 mins 10 seconds
Carry / storage sack included
From Go-Systems Ireland
Read More...
Other products you might like
Coleman C300 Performance Butane / Propane Gas 240g
Price: €8.00
C100 Coleman Gas Cartridge
Price: €5.00
C500 Coleman Gas cartridge
Price: €8.50

Aluminium Whistling Kettle. 1.4 Litre
Price: €12.00

Knife-Fork-Spoon Set
Price: €3.00
Mess Tins
Price: €10.00