Categories
Shop by supplier
Information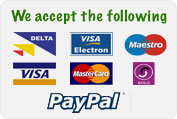 2.5 Kg Galvanised Feeder / Grit Hopper
2.5 Kg Galvanised Feeder / Grit Hopper
This is a well made galvanised wall mounted grit hopper or small poultry feeder for breeding trio's, show pens or partridge runs

Sloping Lid & Galvanised Body.

Well made and sturdy contruction for fixing to a wall or side of a Poultry Pen for feeding grit, oystershell or poultry food.

Imported directly by Mac Eoin General Merchants Ltd. Ireland.

Back to Poultry feeders
Read More...
No other images available
Other products you might like

1 Litre Chick Fount / Quail Drinker
Price: €4.33

Cage Feeder / Drinker
Price: €1.50

Big Red Grit Station. Grit Hopper.
Price: €10.00
Aluminium Feed Scoop. 300ml - 300g
Price: €3.93

Poultry Zest Pellets. 8kg
Price: €80.00