Categories
Shop by supplier
Information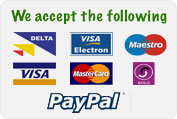 Rollaway Nest Box Bottom with Flap.
Rollaway Nest Box Bottom with Flap.
These nest box bottoms ( potties ) can be fitted to your own nests or fitted to the Osprey Chick Box range of Chicken Nesting Boxes.

The rollout nest bottoms can be used for improved hygiene and speed up egg collection, they also keep the eggs cleaner as they roll away on being laid, the flap prevents any egg pecking, it is suitable for all breeds, savings can be made on bedding materials and cleaning time.

Overall length: 43cm, overall width 32cm. Width when side flaps folded up 27cm. Egg tray is 8cm deep.

The nest 'well' itself is 22cm wide x 29cm long.
Read More...
No other images available
Other products you might like

Dummy Rubber Nest Eggs. 6 Pack
Price: €6.50

Rollaway Plastic Nest Box
Price: €34.00

6kg Outdoor Blenheim Poultry Feeder
Price: €19.00

2.5 Kg Galvanised Feeder / Grit Hopper
Price: €15.00
Chick Box External Rollaway Nest Box.
Price: €41.00

Rollaway Nestomatic Nestbox. Galvanised.
Price: €35.00