Categories
Shop by supplier
Information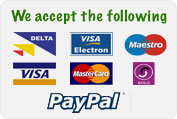 Highlander Cabar Wood Burning Stove
Highlander Cabar Wood Burning Stove
A compact and lightweight wood-burning stove - ideal for backpacking and camping in Ireland.
Durable Stainless Steel construction.
Designed to burn all types for fuel - foraged wood, charcoal, solid alcohol fuel, etc.
Lightweight steel double-walled construction ensures an even distribution of heat and increased burning efficiency.
Vents to allow airflow and protection from the wind.
5 detachable parts which stack into each other for easy transportation and storage.
Wide mouth opening makes it easy to add fuel.
Burn time: 20 mins (approx).
Dimensions: 8x14cm (dia).
Weight: 380g.
Camping Stoves Ireland
Read More...
Other products you might like
Highlander KINGFISHER 6.5 CM Knife
Price: €9.66

Aluminium Whistling Kettle. 1.4 Litre
Price: €12.00

Knife-Fork-Spoon Set
Price: €3.00
Mess Tins
Price: €10.00

Highlander Kukri Knife.
Price: €30.50

Highlander Wolverine Folding Saw
Price: €8.64