Categories
Shop by supplier
Information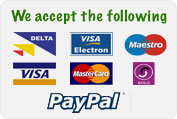 Hotline 25m Poultry Netting Kit With Hot Gate.
Hotline 25m Poultry Netting Kit With Hot Gate.
A Complete Poultry Netting Kit with Free Fence Tester & Hot Gate.
The Hot Gate System allows easy access to the enclosed pen, without the need to power down the fence.
Suitable for all farm fowl.
1 x roll of 25m x 1.1m high hotline electric poultry netting with posts.
Easy Access Hot Gate.
Gemeni 80 Hotline Energiser.
Rigid Corner Posts.
Led Fence Tester.
Earth Stake bar.
Ground skewers.
Netting Repair Kit.
Warning sign.
Powering by mains ? – A roll of lead out cable is required; this is available seperatley.
Powering by battery ?– A 12v battery (Leisure type recommended) is required.
The best electric fencing kit available for your fowl.
Contact us with your poultry fencing requirements.
Visit Fungi The Dingle Dolphin & Drop in & See us.
back to poultry Fencing
Read More...
No other images available
Other products you might like

Steel Pegs 12". 10 Pack.
Price: €10.00
Date Stamp for Egg Marking
Price: €10.00
6 Litre Click Lock Chick Fount / Poultry Drinker.
Price: €8.00

6 Litre Drinker & 6 Kg Tube Feeder Combo.
Price: €15.50

Lead Out Cable. 50 Metre
Price: €42.00