Categories
Shop by supplier
Information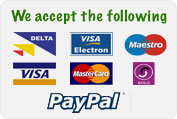 Numbered Metal Wing Tags. 100 pack
Numbered Metal Wing Tags. 100 pack
A good quality metal wing tag for all poultry
Especially suited for gun clubs for pheasant releasing.
They will stay on if applied properly.
6 colours available.
Consecutive Numbers.
Min order 100 in 1 colour.
Pliers Needed to apply. Make sure you order the metal tag applicator.
Read More...
No other images available
Other products you might like
Pheasant Feed Springs. 30 Pack.
Price: €87.00

Top Netting 1.5" Square Mesh. 82' x 82'
Price: €360.00

Metal Wing Tag Pliers For Metal Wing Tags
Price: €25.30

6 Litre Drinker & 6 Kg Tube Feeder Combo.
Price: €17.85 €14.00
Hog Rings - C Clips. CTB7. 2500 pieces
Price: €20.00

Galvanised Feeder & Rain Hat - 10kg Capacity.
Price: €30.00