Categories
Shop by supplier
Information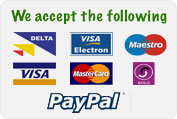 Brinsea Mini 2 Eco Incubator - Starter Pack 1.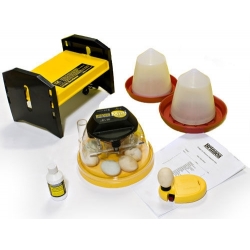 Brinsea Mini 2 Eco Incubator - Starter Pack 1.
Start Hatching a Bright Idea!
Starter Pack 1 provides the ideal equipment necessary to get you started in small scale egg incubation and rearing.
It's easy to use and great fun!
The Starter Pack 1 includes:
Mini II Eco Incubator - this is a fan assisted manual turn egg incubator holding up to 10 hens eggs or equivalent. The combination of proven electronic temperature control, fan assistance, carefully directed airflow and a specially made glass thermometer result in a machine which is deceptively sophisticated yet extremely easy to use. The high quality clear top allows you to see every second of an egg hatching from every angle. The Mini ECO is covered by Brinsea's free 3 year guarantee (just follow the user instructions to register online). Comes supplied with one corrugated hatching mat, additional mats may be purchased for future hatches. Use with the corrugated side face up to give better grip for chicks to reduce the potential incidence of splayed legs. To be disposed of after each hatch. Ideal for composting following use.
OvaView candling lamp - a very effective low cost all purpose candling lamp ideal for identifying infertile eggs with pale, plain shells (most species of hen, duck or goose etc.) The OvaView is battery powered for convenience and uses high output, high efficiency LED illumination - so no bulbs to replace or concerns about overheating the eggs during inspection. See your chicks develop inside the egg!
The EcoGlow 20 chick brooder is ideal for keeping newly hatched poultry, game and waterfowl warm. The EcoGlow has easily adjustable height settings for different sized chicks and its tough plastic construction makes it durable and easy to clean. The EcoGlow runs from a 12v power source for complete peace of mind and uses just 18 Watts of power to keep up to twenty chicks warm. Alternative brooder same size may be supplied.
A feeder - holds 1.5kg of food. Perfect for holding wheat, layers pellets, chick crumbs etc. alternative feeder may be supplied.
A drinker - 1 litre - suitable for game, poultry and waterfowl chicks. Durable and easy to clean. alternative feeder may be supplied
Brinsea disinfectant - (fully biodegradable halogenated tertiary amines) - formulated to be used for sanitising eggs, incubators, brooders and intensive care units.
Starter Pack 1 comes with full instructions, and is extremely simple to use.
Protected by Biomaster antimicrobial additive: proven to reduce bacterial growth by up to 99.99% and 100% safe for eggs, chicks and humans. Protects the incubator from microbial growth by reducing the risk of cross contamination and provides a more hygienic environment for your eggs.
back to Small Incubators
Read More...
Other products you might like

Brinsea Mini II ECO 10 Egg Manual Incubator.
Price: €99.00
Brinsea Mini II ADVANCE EX Incubator
Price: €225.00

Dummy Rubber Nest Eggs. 6 Pack
Price: €8.50

Rollaway Plastic Nest Box. Brown
Price: €40.00
1 Litre Chick Fount / Quail Drinker
Price: €4.40

Egg Wash Powder. 1 KG Tub
Price: €10.00