Categories
Shop by supplier
Information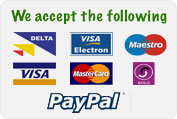 9mm Butane Gas Hose & Clip Set
9mm Butane Gas Hose & Clip Set
1 metre of Low pressure butane gas hose and 2 jubilee clips for use with gas stoves & gas appliances and refillable gas bottles.
Suitable for Gas Barbeques, Gas Cookers, caravans & most Gas Appliances which work off Butane Gas.
Suitable for 8 / 9mm outlets.
Gas Hose Ireland
Read More...
No other images available
Other products you might like

Gas Hose Clip / Jubilee Clip
Price: €1.00
Genuine Campingaz Regulator for 901, 904 or 907 Bottles.
Price: €12.00

Gaslight & Patio Gas Regulator 37 mbar
Price: €14.00
Jumbo Butane Gas Regulator
Price: €15.00

37 mbar Irish Low Pressure Propane Gas Regulator
Price: €12.00

High Pressure Jumbo Regulator
Price: €25.00