A18 Hog Rings (24000)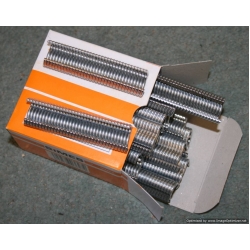 A18 Hog Rings (24000)
Galavanised steel ringed staples / hog rings. ( 24000 per box )
For use with the A18 Fencing Tool for joining net & wire.
Ideal for fixing wire & plastic mesh & Netting together.
Buy hog ring clips in a box of 24000 & save €€€€€€
Used for building release pens, fruit cages, cage traps and any where where wire & mesh needs to be joined
Read More...
No other images available
Other products you might like

Top Netting 1.5" Square Mesh. 42' x 42'
Price: €135.00

A18 Hog Rings (1000)
Price: €15.25

Plastic Netting Clips.
Price: €22.50

General Gamebird Mix. Cover Crop. 1 acre pack.
Price: €72.50

Hog Ring Pliers / Fencing Tool A18
Price: €65.00