ChickenGuard © Self Locking Door Kit.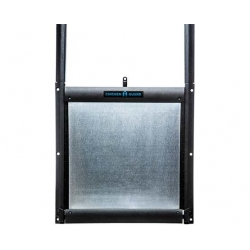 ChickenGuard © Self Locking Door Kit.
Introducing the ChickenGuard brand new self-locking door kit – A world's first.
Our unique self-locking wings are perfect to stop predators from lifting up the coop door and getting to your precious flock.
An ideal accompaniment for one of our ChickenGuard units.
Once the door is fully lowered the wings are released, locking into place, adding an additional level of comfort and security for you and your hens.
We at ChickenGuard & MacEoin General Merchants Ltd who are the distributors for ChickenGuard in Ireland take our environmental responsibility extremely seriously so are proud that our tough and durable runners are 100% recycled.
Our brand new self-locking chicken house door kit is sure to be a game changer for Chicken owners wanting to secure their chickens safely.
Aluminium Door Dimensions – 25cm x 30 cm (10" x 12") – Runners Length – 59.5 cm (23.5")
Read More...
Other products you might like