Large Automatic Cage Cup Drinker.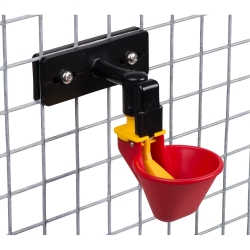 Large Automatic Cage Cup Drinker.
An Automatic Cup Drinker Suitable For All Poultry.
Supplied with a Tee Piece to join cups together.
Requires a header tank with about 14 inches of pressure to work correctly and 10 mm piping.
Ideal automatic drinker for poultry show cages, aviaries and breeding pens.
Comes with stainless steel mounting bracket to connect to wire mesh.
10mm Piping supplied at extra cost.
Read More...
No other images available
Other products you might like
Nipple Drinker for Poultry & Game
Price: €1.25
10mm Drinker Pipe. 10 m long. For Cup Drinkers.
Price: €10.00

10mm Outlet for Header Tank.
Price: €2.50