Automatic Duck Drinker. 16 Litre.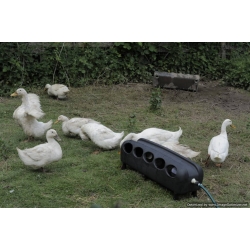 Automatic Duck Drinker. 16 Litre.
This new innovative Automatic Duck Drinker ensures that your flock can enjoy an unlimited supply of fresh, clean drinking water.
Made from thick, heavy duty plastic, the BEC Automatic Duck Drinker has a 16 litre capacity and is connected to a hose pipe via a (readily available) garden 'Hose-Lock' type connector.
The Automatic Duck Drinker also includes an inbuilt automatic cut-off ball valve to keep the water supply regulated.
The BEC Automatic Duck Drinker is easy to set-up and to keep clean, and provides a never ending supply of drinking water for your ducks.
Made in the UK & distributed in Ireland by MacEoin General Merchants Ltd. Dingle.

Read More...
Other products you might like

12 Litre Heavy Duty Poultry Drinker
Price: €15.00

30 Litre Tripod Poultry Drinker On Legs.
Price: €45.00
Treadle Feeder for Poultry. 20kg Capacity.
Price: €49.50

Alke SK81 Gas Brooder. 1000 chick
Price: €125.00

130 Duck Egg Boxes. Extra Large 6 Egg Box.
Price: €27.00

Manola Indoor Poultry Feeder. 22 Kg Capacity.
Price: €19.00