Categories
Shop by supplier
Information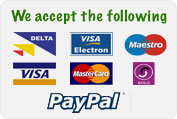 Self Set Rat Trap.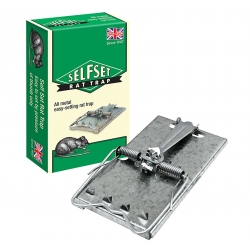 Self Set Rat Trap.
Powerful rat trap, British made since 1947 sold by MacEoin General Merchants Ltd in Ireland.
Rat killer trap is made with durable, galvanised metal and rust-resistant springs for control of rodent infestations.
Use traditional rodent snap traps indoors in the home, in sheds, outbuildings, garages and barns as well as outdoors in the garden or on farms or commercial premises.
Reusable rat trap is easy to set, just use the pressure of your thumb; hair breadth sensitivity means that as soon as a rat steps onto the trap, it will trigger, catching and killing the rodent.
Traditional, British-made rat trap is durable, reusable and easy to set; bait the trap using something sticky and sweet such as peanut butter, chocolate spread or jam or The Big Cheese Rat and Mouse Attractant (STV163).
If you're after a good old classic rat snap trap, then this is what you're looking for.
British made since 1947, this rat trap has no gimmicks - just a simple to set trap, made from galvanised metal, making it durable and long lasting with rust resistant springs.
Just use the pressure of your thumb to set the trap and place indoors or outdoors – wherever rat activity has been seen.
It has hair breadth sensitivity, so as soon as a rat steps on it, the trap is activated and the rat is instantly caught.
Read More...
No other images available
Other products you might like

Single Catch Rat Cage Trap.
Price: €12.00

Rat & Mouse Bait Station. Lockable.
Price: €12.00

Rat Master Heavy Duty Multicatch Rat Trap
Price: €60.00

Mouse & Rat Trap Bait Attractant.
Price: €5.00
Traditional Rat Trap.
Price: €4.00

Black Cat Rat Trap.
Price: €13.50