Categories
Shop by supplier
Information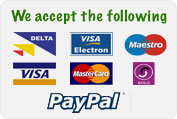 Suet To Go - Suet Log Feeder
Suet To Go - Suet Log Feeder
Specially designed suet log feeder made from recycled wood waste (min 50% and a recycled polymer to give durability).
Each feeder holds 6 suet logs.
You can also buy Fat Balls and roll them to fit into this feeder.
Read More...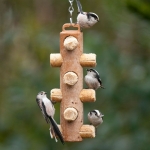 Other products you might like
Hanging Metal House Wild Bird Feeder
Price: €14.00
Hanging Fat Ball Feeder for wild birds.
Price: €6.00

Mealworm Suet Coconut Feeder.
Price: €2.25

Suet To Go - Suet Pellets plus Mealworm - 550g Pouch
Price: €3.00

Suet To Go - Suet Logs with Insects.
Price: €3.00