Categories
Shop by supplier
Information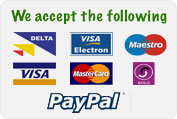 Treadle Feeder for Poultry. 12kg Capacity.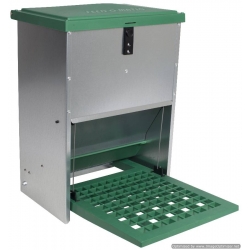 Treadle Feeder for Poultry. 12kg Capacity.
A Heavy Duty outdoor poultry treadle feeder made from durable galvanised steel holding 12kg of feed.
The chickens / birds stand on a Plastic treadle plate to lift a flap to gain access to the poultry food.
Suitable for dry feed, poultry pellets & mash.
It is an all-weather galvanised poultry feeder that cannot be operated by vermin like mice & wild birds.
Galvanised, Vermin-Proof Treadle Feeder imported by Mac Eoin Ltd..
Suitable for all adult poultry, chickens & ducks.

Treadle Feeder holding 12 kg of poultry pellets / mash for chickens, ducks, pheasants & all farm fowl.
As the unit has plastic parts in a heavy rat infestation they may gnaw at the plastic so suitable vermin control program should be in place.
Back to Poultry feeders
Read More...
No other images available
Other products you might like

Poultry & Gamebird Carrying Crate. 2 Door.
Price: €45.00

12 Litre Heavy Duty Poultry Drinker
Price: €16.00
Verm-X Poultry Liquid. 250 ml
Price: €22.00

Wise Poultry Feeder. 5kg Cage Mounted.
Price: €38.00
Aluminium Feed Scoop. 1000ml - 1000g.
Price: €8.50

Flat Packed Round Multi Catch Magpie Cage Trap.
Price: €99.00