Categories
Shop by supplier
Information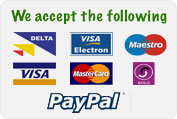 12 Litre Heavy Duty Poultry Drinker
12 Litre Heavy Duty Poultry Drinker
12 Litre heavy duty click lock poultry drinker with metal carrying handle.

Not the usual vacuum push fit drinker.
Ideal for indoor / outdoor poultry pens.
Ideal for pheasant release pens.
Imported from Europe by Mac Eoin General Merchants.
Not to be confused with cheaper chinese models.
Read More...
No other images available
Other products you might like

Poultry & Gamebird Carrying Crate. 2 Door.
Price: €42.00
Wright Feeder Attchment
Price: €5.50

Spiral Spring Feeder. Plastic Top / Steel Spring
Price: €5.02
Treadle Feeder for Poultry. 12kg Capacity.
Price: €45.00

55 Kg Outdoor Pan Feeder. Emperor Feeder
Price: €103.29