Categories
Shop by supplier
Information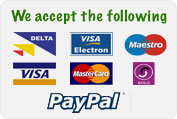 Traditional Rat Trap.
Traditional Rat Trap.
The STV110 Big Cheese Rat Trap is a traditional style catch-and-kill trap that is pre-baited with rodent lure and ready to use.
For best results use several rat traps and set in pairs at 4-5 metre intervals along walls and runways, or adjacent to gnawed openings and burrows where rats are active.
Unit pack displays setting instructions and trapping tips for optimum performanc.
Read More...
No other images available
Other products you might like

Mark 4 Springer / Fenn Trap
Price: €10.70
Mouse Master Live Catch Multicatch Mouse Trap
Price: €13.00
Heavy Monarch Dome Multi Catch Rat Trap.
Price: €26.00

Family Rat Cage Trap
Price: €25.00

Block Bait Mouse Killer Station.Twin Pack.
Price: €5.50