Categories
Shop by supplier
Information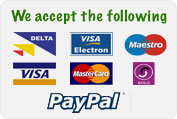 Defenders Flying Hawk Kite.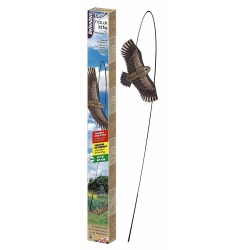 Defenders Flying Hawk Kite.
Effective bird scaring device, suitable for small-holdings and keen garden growers.
Pole mounted kite suspends over crops, swooping and diving even in the lightest of winds.
All-weather durable materials.
4 metre fibrelass mounting pole and ground spike provided.
Kite fibreglass support poles are tough and strong Humane bird deterrent kite:
The kite has a huge 1.8m wingspan with life-like colouring.
The kite swoops naturally, only requiring a light breeze to fly realistically, scaring birds humanely, without causing them harm
Easy to set up and use:
The fibreglass pole is lightweight, making the kit quick and easy to assemble.
Full instructions are provided
Position where protection against birds is needed:
Protects buildings, balconies, allotments, seeded lawns and gardens, orchards, patios, vegetable gardens, farmyards and crops from flocking birds such as pigeons, starlings, seagulls and crows Scares flying pests:
The Hawk Kite is a hawk decoy deterrent for bird pests such as pigeons, crows and seagulls, ideal for use in outdoor areas and gardens which are vulnerable to bird pests.
Humanely deters birds without causing them harm
Read More...
No other images available
Other products you might like

Bird Scarer. Wind Powered.
Price: €14.00

Flying Falcon Decoy
Price: €19.50

Eyeball Bird Scarer.
Price: €10.00

Bird Shadows. Stop Birds Hitting Windows. 3 Pack.
Price: €4.50

30 Metres of Repeller Ribbon.
Price: €13.00

Green Octagonal Magpie Cage Trap.
Price: €140.00