Categories
Shop by supplier
Information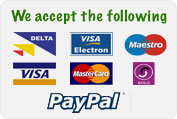 Fox Cage Trap. Heavy Duty.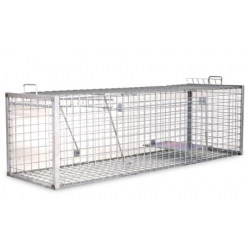 Fox Cage Trap. Heavy Duty.
Professional Heavy Gauge Fox Cage Trap.
Heavy duty 3 mm steel mesh & properly galvanised fox cage.
Better quality than most.
52 cms high x 46 cms wide x 153 cms long.
This Fox Trap is Fastened together by 4 metal rods running the length of the fox cage trap.
There is a Bait door on Top of this Fox Trap above the treadle plate.
Fox Traps Ireland
Fox Traps Northern Ireland
Suitable for the live trapping of Foxes & Dogs.
Live catch trap so non target species can be released unharmed.
Used by dog wardens & councils as well as vets & farmers.
Supplied in 1 box flat packed.

Fox Traps supplied in Ireland by MacEoin General Merchants Ltd, Dingle, Co. Kerry. Ireland.

back to Vermin Control And Traps
*** We cannot ship this product outside the 32 counties of Ireland due to size and weight issues ***
Read More...
No other images available
Other products you might like

Top Netting 1.5 Inch Square Mesh. 55' x 55'
Price: €195.00

Single Catch Rat Cage Trap.
Price: €12.00

Genuine Mark 6 Springer Trap / Fenn Trap
Price: €13.75
Fox Snares Heavy Duty (10 Pack).
Price: €40.00

3 Rat Bait Stations & 150g Bait.
Price: €35.00

Live Catch Cat Cage Trap.
Price: €55.00