Categories
Shop by supplier
Information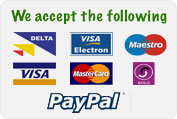 Yellow High-Vis Chicken Vest Jacket.
Yellow High-Vis Chicken Vest Jacket.
Dont worry about your chickens now that the cold, dark nights are drawing in as our High-Vis Chicken Jacket will solve your problem
This Hi Vis Vest will make your chickens visible on the darkest of days, while also protecting them from rain wind and sleet.
The High-Vis Chicken Jacket is easy to use. Just gently put your chicken's wings through the wing holes and fasten at the front.
Breathable, showerproof fabric
Adjustable velcro fastening, offering comfort and extreme manouverability
180 degree, wide reflective strip visible from the air
Offers protection from dirt
Not to be used during warm weather as birds will sweat & overheat.
Read More...
No other images available
Other products you might like

Poultry Manure Scraper.
Price: €13.50

Chicken Harness - Blue.
Price: €12.80

Beanie Hat With LED Light. USB Rechargeable.
Price: €10.00
Chicken Swing
Price: €10.00

Chicken Perch
Price: €12.00
Poultry Catching Net - Small
Price: €15.00