Categories
Shop by supplier
Information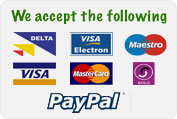 Wright Feeder Attchment. Green
Wright Feeder Attchment. Green
Tested now for over 15 years in Irish market the 'Wright' type feeder attachment is a tough, inexpensive solution for the DIY game & poultry feeder market.
Made from pressed mild steel and powder coated the 'Wright' type feeder attachment can feed wheat, barley, pellets and holding mixes.
Suitable for all game birds, poultry and waterfowl excluding geese from poult to adult.
Fit the Wright Pheasant Feeder Attatchment to any metal, plastic or wooden hopper / container.
To fit: Drill a 76mm hole in your container, insert the wright game bird feeder into the hole from the inside then fill the container with feedstuffs.
Birds should be able to stand fully to feed.
The 'Wright' Feeder attachment cannot be broken or tampered with by badgers, deer or sheep.
Damp pellets, chaff or straw will not cause a blockage (feeding birds will clear any blockage in the wright game / poultry feeder).
Green metal wright feeder for pheasants and all fowl
The 'Wright Type Feeder' attachment has a high feed flow perfect for game birds & poultry.

Back to Poultry feeders
Read More...
No other images available
Other products you might like

12 Litre Heavy Duty Poultry Drinker
Price: €13.21

Top Netting 1.5 Inch Square Mesh. 11' x 22'
Price: €34.00

Wise Poultry Feeder. 5kg Cage Mounted.
Price: €35.00

Letterbox Feeder Attatchment
Price: €4.40
Pure Aniseed Oil. 100ml
Price: €14.00