Verm-x for Game Birds. 1 Litre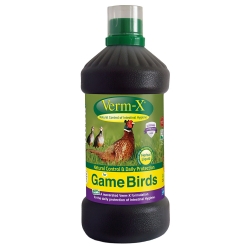 Verm-x for Game Birds. 1 Litre
A monthly supplement to restore and maintain gut vitality in Game Birds especially pheasants.
Made from 100% natural active ingredients, the Verm-X® Original range can be fed all year round.
Use for daily control and protection of intestinal hygiene.
Feeding Guide:
Add 100ml per 20 litres of drinking water for six consecutive days each month.
Ingredients Cinnamon, Garlic, Thyme, Peppermint, Fennel, Cleavers, Nettles, Slippery Elm, Quassia, Elecampane.
Feed to breeding stock at least 2 months before hatching season.
Read More...
No other images available
Other products you might like