Categories
Shop by supplier
Information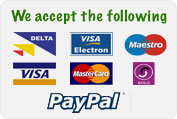 Kale.
Kale.
A very high yielding variety of kale, good winter hardiness and excellent feeding quality.
Keeper Kale Cover Crop is Flea Beetle Dressed.
Tried and tested Game Cover Crop for many years and still very popular today.
Sowing rate: 2kg per acre.
Pack Size: 1 kg
Read More...
No other images available
Other products you might like
Pheasant Spex. 25 Pack.
Price: €6.00

Size B Bitfitter Beak Bits. 1000
Price: €28.00

Bitfitter Tool Size B
Price: €37.50
Quinoa Game Cover Crop.
Price: €48.00
Sunflower. 1/2 acre pack.
Price: €30.00

General Gamebird Mix. Cover Crop. 1 acre pack.
Price: €69.00