Categories
Shop by supplier
Information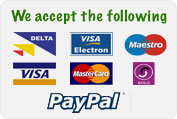 Cover for 50 - 55 Chick Heat Plate.
Cover for 50 - 55 Chick Heat Plate.
A fantastic solution to a known problem!
Heating plates get dirty, because the chicks can jump on top of them. With this new cover for heating plates this problem is solved for good.
The shape of the cover ensures that the chickens, when they try to jump on top of the heating plate, slip back down again.
The cover is very easy to be placed and removed.
It is made of transparent plastic (PET) and VERY solid.
After each use you can clean the cover by rinsing it with warm water to remove the dust.
The cover is suitable for the new Comfort heating plate models (model 2013) and is a fabulous accessory.
Available in all sizes of the heating plates. This cover is suitable for the models 50 - 55 chick. 60cm x 40cm.
Brooder not included.
Read More...
No other images available
Other products you might like

Chick Enclosure Panels.
Price: €24.00
Poultry Drink Tonic. 500ml. No stock until 1st October
Price: €10.00

Coxoid. 112ml. Coccidiosis Treatment. .
Price: €14.75
Virkon S Discinfectant. 5 Kg Tub
Price: €123.00

Chick Heat Plate / Electric Hen For 50 - 55 Chicks.
Price: €67.00

1 Litre Nutrimin Apple Cider Vinegar.
Price: €6.50