Our TLC incubators have several functions and are used by rescue and rehabilitation centres all over the world.
Examples of how they are used by different groups and organisations can be found on our TLC website – visit the website and click on the drop-down menu to find out more… Bird Brooding – Altricial species of birds (including all parrots and birds of prey) are blind and helpless when they hatch and it is some weeks before they are able to move around, control their body temperature and feed themselves.
During this period the young birds need to be kept in a clean, temperature controlled environment.
As they grow and develop down and feathers they can gradually tolerate lower temperatures and the breeder needs to be able to reduce the chamber temperature easily, whilst still maintaining control.
Young birds also benefit from being able to see humans from within the chamber; during this early stage in their development it is essential for young birds to become familiar with the presence of people if they are to be tame in adulthood.
Recovery Incubator – The TLC fulfils all of the above functions very cost effectively and can also double as a hospital cage for sick or injured birds, these units are used in conservation programmes worldwide.
Intensive Care Units – the best place for weak and fragile baby animals to heal, hide, cuddle, and grow – especially for tiny babies who aren't yet old enough to retain their own heat.
The incubators provide a warm, clean, quiet, safe and reliable haven for these orphaned baby animals.
Many young babies need extra help to survive in those early days and a safe, secure, controlled environment gives them the best chance to recover and thrive.
Sort By:
Showing 1 to 6 of 6 (1 Pages)
TLC-30 Eco Intensive Care Unit / Brooder / Incubator.
Price: €220.00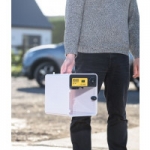 TLC-30 Advance Intensive Care Unit / Brooder / Incubator.
Price: €270.00
Brinsea TLC-40 Eco Brooder.
Price: €500.00
Brinsea TLC-40 Advance Brooder.
Price: €575.00
TLC-50 Eco Brooder.
Price: €605.00
Brinsea TLC-50 Advance Brooder.
Price: €695.00