Chicken / Duck Killing Cone. Wall Mounted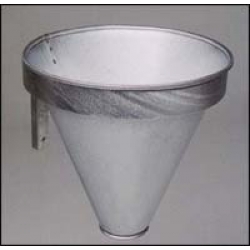 Chicken / Duck Killing Cone. Wall Mounted
Wall Mounted Killing Cone/ Blood Strainer for Chickens.
A killing cone for smaller fowl, chickens & ducks.
Prevents poultry bruising & wing damage when birds are bleeding out.
Holds the bird tightly to prevent damage to meat..
Simple to use and strong in construction.
Supplied with wall mounting steel bracket to hold the killing cone in place..
The Killing Cone is made from steel as well.
More durable than plastic killing cones.
Poultry Processing Equipment Supplies.
Read More...
No other images available
Other products you might like

Wall Mounted Poultry Dispatcher
Price: €47.50

Wet Plucking Machine. Novital Esterina.
Price: €399.00

Dry Plucking Machine-Bench Mounted-Muscat Turbo 7 / 140
Price: €1,300.00 €1,250.00

Bolt Stunner - Punch Stunner For Poultry upto 25Kg.
Price: €180.00

Poultry Bleeding Tool for Game & Chickens.
Price: €45.00

Poultry Lung Remover.
Price: €24.00