Categories
Shop by supplier
Information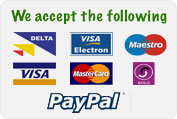 4 x Brinsea Ova Easy Pegs
4 x Brinsea Ova Easy Pegs
4 x Universal Tray Pegs for for use with Ova-Easy Incubator Hatching Trays.
Used to hold the cover in place on the Hatching Trays.
Genuine Brinsea Incubator Parts.
Read More...
Other products you might like

Humidity Management Module Silicone Tubing 3m
Price: €14.00

OvaEasy Incubator Hatching Tray & Cover. 100,190,380,580
Price: €31.00

Brinsea Evaporating Block for OvaEasy 380 Incubator.
Price: €8.50
Brinsea Evaporating Block for OvaEasy 190 Incubators
Price: €6.00

Ova Easy Dividers for Universal tray
Price: €18.00

Brinsea Ova Easy Advance Incubator Sensor
Price: €55.00