Brinsea OvaView Standard Egg Candling Lamp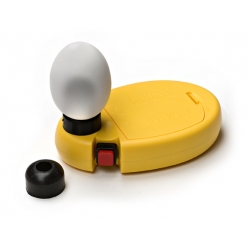 Brinsea OvaView Standard Egg Candling Lamp
The OvaView egg candler lamp from Brinsea Ireland is a very effective low cost all purpose egg candling lamp.
An ideal egg testing / candling unit for indentifying infertile chicken eggs with pale, plain shells.
This Egg Candling Unit is Battery powered for convenience and uses high output, high efficiency LED illumination.
Brinsea Products have been making egg candlers for over 20 years.
No bulbs to replace or concerns about overheating the eggs during inspection.
The OvaView is designed to either be hand-held or can be left on a work surface during use.
Supplied with a flexible black ring to seal against the egg shell.
For thick shelled or dark eggs the OvaView High Intensity Candler is required.
The candling lamp comes with a set of 4 AA batteries but can be used with rechargeable AA batteries - a suitable set of batteries with charger can be purchased from Mac Eoin Ltd - part number 25.27
back to Egg Candling Products
Egg Candler - Brinsea
Read More...
No other images available
Other products you might like

Octagon 40 DX Incubator Upgrade Kit
Price: €35.00

Brinsea Octagon 20 Advance to EX Upgrade Kit.
Price: €106.73
Ova Scope Attachment for Ova View Egg Candler.
Price: €24.00

Brinsea OvaView High Intensity Egg Candling Lamp
Price: €41.00
OvaView Candler and OvaScope Egg Candling Pack.
Price: €44.00

OvaView - Spare Viewing Cones Pack
Price: €6.00