Ova Scope Attachment for Ova View Egg Candler.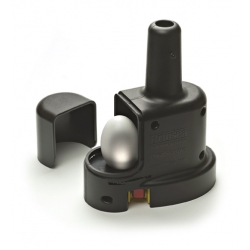 Ova Scope Attachment for Ova View Egg Candler.
The Brinsea OvaScope is a very effective accessory for use with the OvaView or OvaView High Intensity egg candling lamps ( Not Supplied ).
The OvaScope fits over the OvaView Egg Candler, and the egg is then placed within the OvaScope and the egg cover replaced.
The OvaScope cuts out all the ambient light and slightly magnifies the egg which makes the illuminated egg much easier to see.
The egg can be rotated from outside the OvaScope to allow the egg to be viewed from a range of angles and there is the facility to fix a small camera or webcam to generate a digital image of the egg and embryo.
The OvaScope makes candling eggs much easier and is ideal for school incubation projects or for presentations.
This is the attachment only so you must already have the ovaview candler.
back to Egg Candling Products
Read More...
No other images available
Other products you might like

Spot Check / Check Up Digital Incubator Thermometer
Price: €24.00

Brinsea OvaView Standard Egg Candling Lamp
Price: €29.00

Brinsea OvaView High Intensity Candling Lamp
Price: €41.00
OvaView Candler and OvaScope Egg Candling Pack.
Price: €44.00

OvaView - Spare Viewing Cones Pack
Price: €6.00

Egg Candler. Super Flash Standard.
Price: €20.00