Metal Wing Tag Pliers For Metal Wing Tags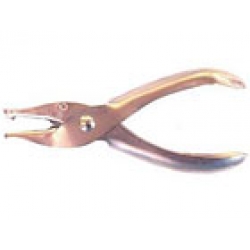 Metal Wing Tag Pliers For Metal Wing Tags
Single action applicator to apply all styles of our metal wing tags.
Plated steel and sheet metal pliers.

Only suitable for our metal wing tags.

We can supply other pliers for quadtags etc.

Many other types of identification bands & rings available

Read More...
No other images available
Other products you might like
King Feeder & Hat. 25kg Capacity.
Price: £27.54
Pheasant Feed Springs. 30 Pack.
Price: £77.29

Top Netting 1.5" Square Mesh. 82' x 82'
Price: £319.82
Pheasant Leg Rings. 100 pack.
Price: £8.88
Numbered Metal Wing Tags. 100 pack
Price: £17.99
Numbered Plastic Wing Tags. 100 pack
Price: £17.99