Nipple Bucket Drinker for Poultry. 12 Litre. No stock until Mid August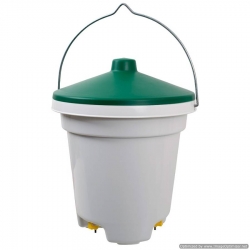 Nipple Bucket Drinker for Poultry. 12 Litre. No stock until Mid August
Are you always struggling to keep the water clean and healthy for your chickens or other poultry?
Our drinking bucket with nipples is the solution!
Many drinking systems use open and exposed water, but the water is often quickly dirty.
What are the advantages of this innovative drinking system?
The birds pick drops off the nipple and have immediately clean, healthy and hygienic water.
This reduces the chance of diseases!
The bucket has three high quality drinking nipples with filters.
The filters ensure that the nipples cannot be clogged with dirt.
You will not have to change the water every day, this will save you a lot of time!
This drinking bucket has a capacity of 12 litres and is a complete system with three nipples and filters, delivered with hanging cord, hook and suspension set.
Poultry should drink with a straight neck, with the included suspension set you can easily adjust the height.
Read More...
No other images available
Other products you might like

Stockholm Tar. 400g
Price: £8.00

Coxoid. 112ml. Coccidiosis Treatment
Price: £10.66

General Gamebird Mix. Cover Crop. 1 acre pack.
Price: £64.41

Egg Sanding Block / Egg Cleaner.
Price: £2.00