Bolt Stunner - Punch Stunner For Poultry upto 16Kg.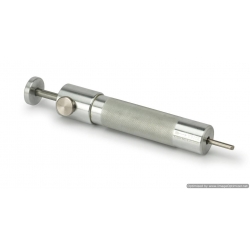 Bolt Stunner - Punch Stunner For Poultry upto 16Kg.
A spring powered Bolt Stunner for Ducks, Turkey, Chickens and Rabbits.

This poultry stunner ideal for the small producer or as a back-up stunner for bigger processing plants.

The bolt stunner is fired by a trigger on the side and shoots a bolt 27mm in length & 5mm in diameter.
Suitable for rodents, vermin & poultry upto 16 kg.
Quality made punch - bolt stunner for dispatching poultry & rabbits humanely.

Used extensivley for dispatching animals in traps.
Not approved for stunning Geese.
Ideally suited for those doing under 100 birds per annum.
No running costs.
Read More...
No other images available
Other products you might like
Turkey / Geese Killing Cone. Wall Mounted
Price: €70.00

Wet Plucking Machine. Novital Esterina.
Price: €399.00

Dry Plucking Machine-Bench Mounted-Muscat Turbo 7 / 140
Price: €1,300.00 €1,250.00

Hand Poultry Dispatcher Pliers
Price: €40.00

Poultry Bleeding Tool for Game & Chickens.
Price: €45.00

Poultry Lung Remover.
Price: €24.00