Categories
Shop by supplier
Information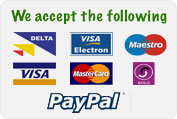 Rat Master Heavy Duty Multicatch Rat Trap
Rat Master Heavy Duty Multicatch Rat Trap
Self Setting it does not need to be re set and will catch up to 10 rats in 1 go.
The heaviest gauge rat trap on the market today.
Used by proffesionals this is battleship strength.
Made from sheet steel for years of use.
Bait with fish skin or bacon rind.
back to
Vermin Control And Traps
Read More...
No other images available
Other products you might like
Heavy Duty Rat Cage Trap
Price: £21.32
Heavy Monarch Dome Multi Catch Rat Trap.
Price: £22.72

Family Rat Cage Trap
Price: £21.85

Self Set Rat Trap.
Price: £6.22

Black Cat Rat Trap
Price: £10.22