Brinsea Ova-Easy 100 Advance EX Incubator + Humidity Pump.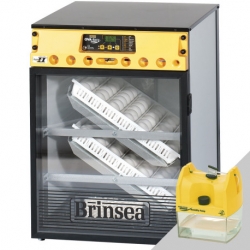 Brinsea Ova-Easy 100 Advance EX Incubator + Humidity Pump.
OvaEasy Series II 100 Advance EX - 72 - 96 hens egg capacity.
The Series II range of the popular OvaEasy Cabinet Incubators now extends from the compact, table-top OvaEasy 100 to the high capacity OvaEasy 580 and Hatcher combination, all providing the same consistently high hatch rates and value.
Features High performance, flexible incubator with integral hatcher.
Large capacity, OvaEasy 100 model: 96 hens eggs when using species specific trays. 72 Hen Eggs with universal trays supplied.
Flexible egg handling to suit a wide range of egg sizes
Fully Automatic turning
Comes complete with Humidity Pump module, designed to work seamlessly with all OvaEasy Advance incubators for full automatic humidity control.
Clear, double-glazed observation door
Energy efficient, wipe clean, insulated cabinet made from galvanised and painted steel chassis for strength and durability
'Advance' digital control system – temperature and humidity readout, turning interval options, periodic cooling option, choice of degrees C and F
Patented room temperature alarm for additional peace of mind
Unique 'laminar airflow' to eliminate cold spots.
UK made
Free 3 year guarantee
Capacity when using species specific trays:
Quail - 248 eggs
Pheasant - 118 eggs
Hen - 96 eggs
Turkey/Duck - 60 eggs
Goose - 30 eggs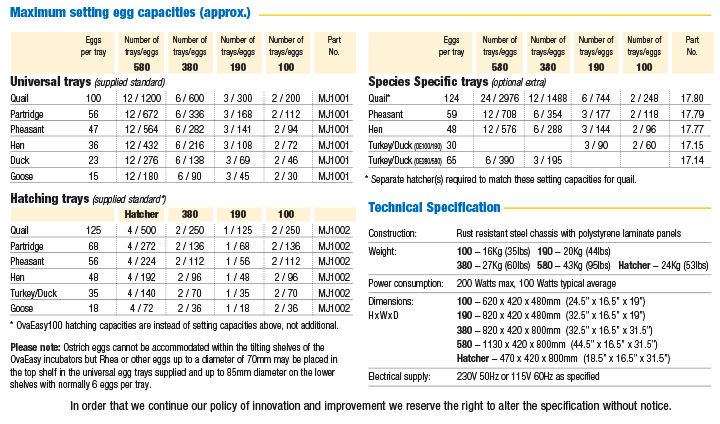 Read More...
No other images available
Other products you might like

Humidity Management Module Silicone Tubing 3m
Price: €14.00

Hen Egg Tray for all Brinsea OvaEasy Incubators
Price: €22.50

Rigid Tubing For Advance Humidity Pumps
Price: €2.50

Ova Easy Dividers for Universal tray
Price: €18.00

​Turkey / Duck Egg Tray for OvaEasy 100 and OvaEasy 190
Price: €22.50

Brinsea Ova Easy Advance Incubator Sensor
Price: €55.00