Verm-X Poultry Pellets 1.5 kg Tub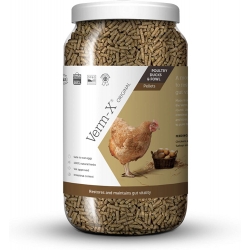 Verm-X Poultry Pellets 1.5 kg Tub
Verm-X for Poultry, Ducks and Fowl is available as both a macerated liquid and a pelleted formulation.
Both forms are equally effective and have been produced due to the growth of organic and bio-diverse natural farming methods.
The unique liquid formulation is produced through a three week macerating process that ensures its effectiveness and quality.
Customer requests for a pelleted top dressing or for mixing into feeds has come because Verm-X Liquid which is added to drinking water may be difficult to monitor.
Verm-X Pellets for Poultry, Ducks and Fowl are 2mm in diameter and mix well into regular manufactured feeds or home made feeds.
Produced under licence by Gro-Well Feeds Limited in Wiltshire brings over 35 years' of feed production experience.
Being a 100% natural herbal formula there is no egg withdrawal period. Verm-X is easy to use by adding to your bird's feed for three consecutive days each month.
Verm-X for Poultry, Ducks and Fowl is packed in sizes including sensible amounts for the small flock owner.
We have many valued clients with flocks of 3 or 4 hens or just one friendly duck.
Being 100% natural, Verm-X has the added advantage of having no egg withdrawal period.
Additionally the small pellets can be mixed into manufactured or home-mixed feeds.
Feeding Verm-X Poultry Pellets:
Feed 2.5g per bird per day. Mix whole or crushed into daily feed ration. Repeat for 3 consecutive days each and every month.
When introducing Verm-X, or in cases requiring further attention, a double course can be safely fed over 3 days.
Ingredients include:
Sunflower oil, seaweed meal, dicalcium phosphate, allium sativum, cinnamomum zelandicum, mentha piperita, thymus vulgaris, galium aperine, capsicum minimum.
Read More...
No other images available
Other products you might like
Stockholm Tar. 400g
Price: €12.00

Wind Action Owl Decoy.
Price: €27.00

20 Kg Treadle Feeder & 30 Litre Drinker Combo.
Price: €85.00
Smite Organic Oblitermite. 500ml
Price: €18.00